Seica Pilot V8 NEXT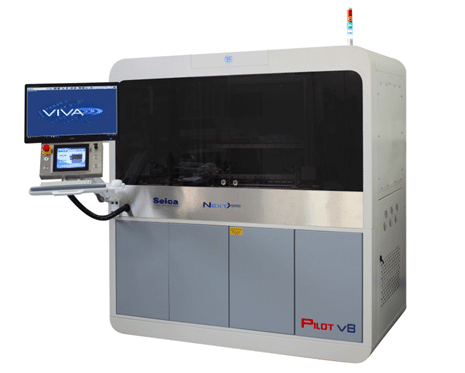 Over the last decade, flying probes have become an essential part of testing circuit boards in an assembly line. Flying probe is typically more desirable than the traditional bed of nails in-circuit system because of the lack of fixtures dedicated to a specific kind of board, allowing the possibility of setting up test programs without the recurring costs needed to build up a specific bed of nails.
The Pilot V8 NEXT is part of Seica's new Next Series solution—each product is made for a specific type of application to meet the various needs of the market. The Pilot V8 works to test double-sided electronic boards, which require stimulus and measurement on both sides of the UUT simultaneously. The "8" in the machine's name refers to the 8 probes that are distributed on both sides of the Unit Under Test (UUT)—this probe quantity enables full test coverage and faster test time. The vertical configuration of the board allows for both sides to be evaluated simultaneously, as well as for gravity to help minimize vibrations during testing. This ensures maximum test precision and measurement stability.
We asked Rick Melewski, Eastern Regional Sales Manager, why he believes that Seica is the test solutions market leader: "Seica and innovation is a combination that customers worldwide have come to expect. Over the past 30 years, this winning philosophy has represented the highest level of technology that applies to the testing of electronic assemblies."
Seica also offers a full range of in-circuit and functional test systems solutions.
The test tools and techniques of the Pilot V8 NEXT include:
FNODE signature analysis on the nets of the UUT
Standard analog and digital in-circuit test
Vectorless tests (AUTIC & OPENFIX), to test ICs for opens and shorts
PWMON digital net analysis
Continuity test to detect open tracks on the PCB
Visual tests for component presence/absence and rotation
Optional functional test and boundary scan test capabilities
On Board Programming tools for digital devices
Optional Thermal Scan Resources
ALI: Automatic Laser Inspection for presence / absence and warpage compensation
LED Sensor for light intensity and color recognition
Benefits of Flying Probe Test:
Eliminates fixturing costs and time
Fast test program development, easy integration of design changes
Process flexibility
Circuit access, even in the absence of test points
Controlled probe contact, programmable for any type of board
Different test solutions and approaches integrated in a single test system
Intrinsic positioning and measurement precision
More information on all of the Seica flying probe systems
To request more information about the Seica Pilot V8 NEXT, please e-mail sales@methodsautomation.com