EVO Cam II
EVO Cam II is a powerful easy-to-use, versatile high-definition digital microscope.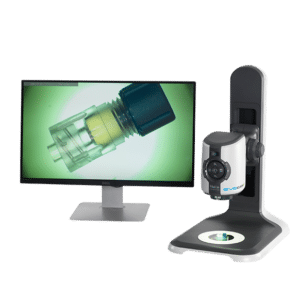 EVO Cam II's unique combination of high-quality image, ease of use and flexible configuration to meet the demands of a range of tasks is commonly used for quality and inspection activities in multiple industries, including: Electronics, Medical Device manufacture, Aerospace, Automotive and Life Science.
Powerful
A 30:1 optical zoom range, delivers excellent detailed image quality and optical magnification up to 760x. Digital zoom can be increased to an impressive 9000x maximum magnification. What's more, a range of precision objectives and wide-field lenses let you choose a configuration that's an exact match for your unique and individual needs.
Easy to Use
Ten pre-sets make it easy to share between users across different applications, and a supervisor-setting lock lets you stay in control. Calibrations, which can be saved in pre-sets can be tracked through the zoom range, speeding measurement of different size details and removing the need to recalibrate.
The overview function enables quick and convenient sample orientation, while overlays and the image comparison feature enable easy comparison with reference marks or sample images. 
Capture high resolution images at the touch of a button either direct to USB memory stick, via wireless or direct to a PC.
Versatile
Quickly and easily repurpose your EVO Cam II for a range of tasks by selecting performance enhancing tools from the comprehensive range of options and accessories.
A 360˚ rotating viewer for looking around the subject, focus stacking for bringing tall subjects into uniform focus, a UV ring light, sub-stage illumination and a range of filters all help you inspect a wider range of subjects. Add a floating stage for even greater precision and control and choose from a wide range of stands to make EVO Cam II perfect for your application.
A range of objective lens options ensure optimum results for any application, whether you need high magnification, high precision detailed inspections or for manipulation, re-work and assembly tasks requiring an extra-long working distance.
To request a demo or more information about the EVO Cam II, please e-mail