Cubus by Essemtec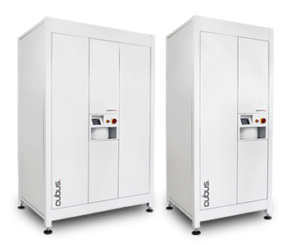 The Cubus is a fully automated component storage cabinet for reels and JEDEC trays.  It can also house boxes with various contents from connectors to assembly materials to PCBs, with a total weight of up to 7 lbs per shelf.
The spacing of the shelves is freely user configurable and thus allows you to adapt the cabinet to your changing needs.
Powerful software manages multiple storage locations and interacts with placement machines and MRP/ERP systems.  Integration is easily achieved with a file based data exchange that requires nothing else but a network folder.  Higher sophistication is achieved with an API/DLL to allow SQL database manipulation such as automatic work order loading or consumption reports.  Lastly, Essemtec also offers a Web Services based integration, over http/SOAP which works similarly to a messaging services such as WhatsApp.
The Cubus can be operated as a component warehouse for smaller manufacturers wanting to improve efficiency, by reducing picking time considerably.  Alternatively, the Cubus also serves as "Mini-Market" for high volume lines to avoid any down time due to parts running out.
Why do we recommend this product?
KEY BENEFITS
Available in 2 sizes – stores up to 612 or 932 reels
Reconfiguration capability backed by auto-mapped function
User adjustable shelves for reels from 7-15"
Operator-friendly man-machine interface (MMI)
Automatically detects reel diameter and width
Full connectivity to ERP or middleware systems
Links Cubus to other storage systems, pick-and-place equipment, etc.
ADDITIONAL INFORMATION AND PRODUCT SPECIFICATIONS
Next Generation SMD Storage System
Reel diameters 7 – 15 inches
Tape width 8 – 72 mm
Access time 9 – 11 seconds
Control – PC, keyboard and LCD
Windows version – Windows 8.1
Database – Data access via Access table; Connection to existing SQL systems
Software

Cubus control software; Job planning; MSL tracking (Moisture Sensitivity Level)
Bar code label designer & print software; Component stock management software
Software interface to eMIS planning and optimization system
Adjustable operator language (English, German. Other languages upon request)
User group rights
Options on request – Language code, Temperature and humidity measurement, Air dry unit for Cubus, N2 option with oxygen sensor, Individual stack configuration, Internal data matrix code reader, and many more.
Contact sales@methodsautomation.com to schedule a demo or inquire about pricing.