Breakthrough Developments in AOI Technology:
Nordson YESTECH's FX-940 ULTRA 3D AOI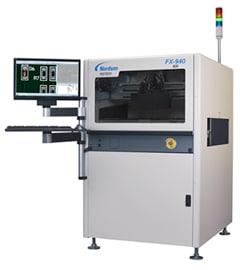 Nordson YESTECH's FX-940 ULTRA 3D AOI combines advanced 2D and 3D imaging technology to provide a superior inspection solution.  The FX-940 ULTRA boasts improvement and increased throughput by way of:
Greatly improved defect identification levels
True solder joint volume measurement
Verification of correct part assembly
> 50% reduction in false calls
A unique feature to the FX-940 ULTRA is that it can be configured for all line positions, and is equally effective for paste, pre / post-reflow and final assembly inspection.  Additionally, the programming can now be accomplished off-line using a bare board, so the need for a completed assembly is no longer required for a good portion of the programming.
The addition of the 3D technology complements the 2D capabilities of the machine by providing precise measurement of the following:
Co-planarity of QFNs, BGAs, connectors and other height sensitive devices
Solder defects / fillet shape / paste
Lead defects / lifted leads
Component presence and position
Correct part / polarity markings
Through-hole parts
Under the hood, the FX-940 ULTRA's hardware/software systems come together to create a new standard in automated inspection technology.
PRODUCT FEATURES
Multi-view 3D sensors with parallel projection for faster inspection times
1 top-down and 4 side viewing 2D cameras for defect review
Automatic programming tools: < 30 minutes to create complete inspection program
Advanced 2D and 3D rules and image based inspection tools
SPC data collection and reporting
Learn more about Nordson Yestech: www.nordson.com/en/divisions/yestech