AMP One Ultra Low Voiding Solder Paste

Hot topic: Why is voiding a problem?
Voids have the potential to cause two major defects in a PCB solder joint:
Voids can lead to mechanical weaknesses which can create cracks in the solder joint.
Voids can also hinder thermal dissipation, preventing heat transfer away from a component, ultimately leading to thermal failure.
Combining new advances in product technology as well as strong technical support, FCT Assembly provides numerous solutions as an attempt to help electronics manufacturers mitigate voiding.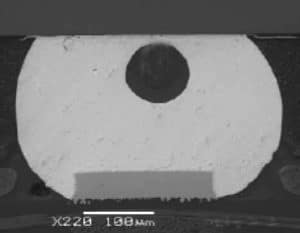 Voiding Solution: AMP One Ultra Low Voiding Solder Paste
FCT Assembly has developed AMP One Ultra Low Voiding Solder Paste in response to the voiding issues.  FCT Assembly is redefining the voiding standard for PCB Assembly by combining industry low levels of voiding performance with excellent activity and decreasing the potential for solder balling and graping.  AMP One delivers assembler an unmatched ability to save time and produce higher yields.
AMP One Features
Ultra-Low Voiding

Based on 3rd party studies, AMP One provides lower voiding than comparable no clean lead-free solder pastes
Proprietary additives enhance de-gassing ability of solder paste
Additives allow gas bubbles to escape from solder joints before solidification, resulting in ultra-low voiding

Excellent Stencil Life & Response to Pause

Longer stencil life than comparable no clean lead-free solder pastes
Can be used on printer for up to 8 hours
AMP One tolerates pauses in printing very well—after an 8 hour pause, AMP One printed normally without kneading

Superior Reflow Characteristics

Excellent wetting
Solder balling very low
Graping best in class
Tolerates wide range of reflow profiles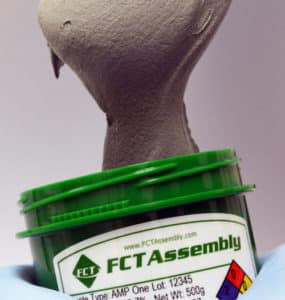 To learn more about this product 
To order a sample, please call us at 410-650-1000